Actiongirls.com review & discount
The ultimate fetish, role play, super babes site. A large number of porn stars in unique fetish action videos and photos.
We bet Action Girls is a site quite unlike any other adult site that you have ever seen. They don't have guy on girl action, or lesbian sex. They don't even in fact show that much skin. At Action Girls, you are about to see some of the hottest pornstars out there dressed as badass action movie characters – and filmed crazy ass movies with them. Oh yeah, they also have huge shooters. And in fact hooters!
Combining drop dead gorgeous pornstars with action movie theme, now this is an amazing concept. You'll see some of the top XXX names out there dressed up in ultra tight military outfits, fetish gear, all sorts of incredibly hot lingerie and the like. Guns, bombs, insane non-stop action, sweat… Oh, and in the end they are partially naked. Talk hot about entertainment!
Action Girls has a history of over a dozen years. Now, the content archive kicks plenty of ass with its 1,000+ movies and almost 300,000 pictures. Everything is very professionally filmed here, with big ass photos and videos that look as if they were actually made in Hollywood.
You can download the movies as WMV or MOV files choosing between 2 quality modes. You can stream them as well, using the site's Flash player. Pictures are fully downloadable as well, and they can also be browsed as a slide show. Action Girls updates every day – no, wait, even more often than that. Each and every week, there's 1 new movie and 8+ new photo galleries.
Minor Cons
Action Girls is a site dating back years ago. No wonder the design looks dated a bit right now. For a site this massive, new navigation features are paramount. The look is a little bit cluttered, and we feel a design update is in order here.
Conclusion
Action Girls is wildly entertaining and probably one of the most original sites out there. Even after more than a decade, the site continues to rock. They never stop shooting new scenes, and the selection is becoming more entertaining week after week. The content quality is at a high level here. Still, we felt like a member area design update could really do Action Girls some good. We can wholeheartedly recommend Action Girls to anyone who's into action movies, hot pornstars, and fun. Which is pretty much everybody, right?
Special Offer
Click coupon right below to gain your Actiongirls.com discount: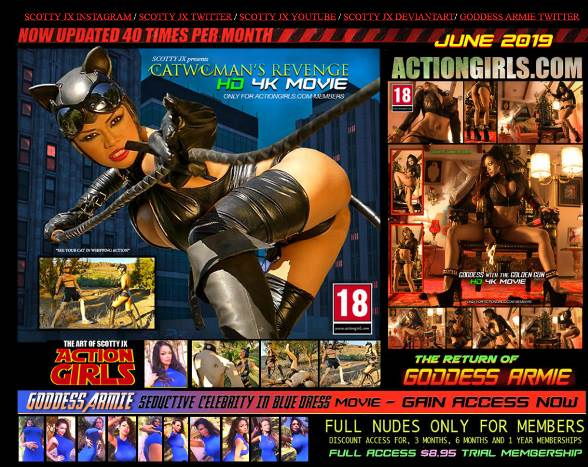 Actiongirls.com review & discount
$14.5 (12 month membership)
$38.99