Sinfulgoddesses.com review & discount
Maximum discount for a one-year subscription
Sinful Goddesses (what a name, huh) is a fantastic blend between erotica and fantasy. The site is ready to charm and enchant you showing ladies who are more mysterious, beautiful, and powerful than any mortal. Get ready to see many a sorceress and fairy here at Sinful Goddesses. Our review of Sinful Goddesses will guide you through the main points of this high-class erotica site. Let us assure you, you have never seen anything like this before.
Sinful Goddesses is all about being special, unique, creative, and sexy. The photos and videos are very well-produced. There are witches, fairies, swords, babes draped in silk, islands, all sorts of dazzling scenery and props. You'd think stuff like this can easily cross the line and become cheesy, but the magic of Sinful Goddesses is that it does not. There's plenty of sexy here, and you just enjoy the ride. There are three image sizes for photos, all of them downloadable as zip archives. Movies, you can save them as WMV or AVI files. Each format has two quality modes.
The content is obviously produced by top-class professionals. The size of the pictures goes up to 5,600px. The images are truly massive, and they show every smallest detail – and there are plenty of details you'll want to see here. When it comes to video quality, the highest is 1080p, i.e. full HD. Very impressive. The bitrate is quite high too, around 5,000kbps. The design is clean and visually appealing. You won't find any clutter, ads, nothing like that. You can comment on content items and rate them. You can also add things you like to your very personal favorites folder.
Minor Cons
The site doesn't seem to be growing very fast. They do add scenes, but the site is way behind on the normal update rate. The site could benefit from better navigation. You can click a girl's name and the scenes are sorted by upload date and there you have it. Not that it's not working, but we would enjoy using categories and search and other things. Also, no descriptions for the image galleries.
Conclusion
The theme of the site is unique and the content is very high grade. There is nothing more to wish for, with the exception of faster growth. The photos and videos are beautiful, entertaining and engaging. It's a shame to see such a unique site not growing fast enough, but let's hope they fix this.
Special Offer
Don't miss out on your chance to experience this very special site at a reduced cost.
We have included a coupon with this review of Sinful Goddesses:
Сlick on the coupon b
elow to get a special discount: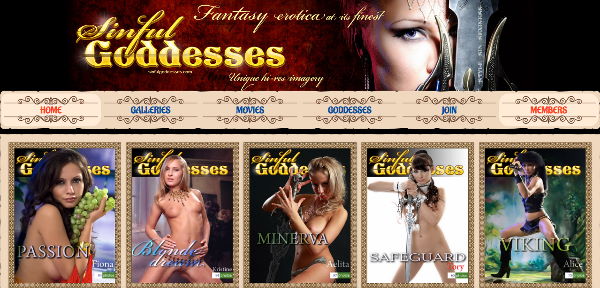 Sinfulgoddesses.com review & discount