MetArtX.com review & discount
Please Note: You can also choose the Met Art Network Special Offer (10 premium erotic sites, including this superior website) for as little as $4.99 per site or $49.95 per month (81% off). This is the best erotica offer on the internet, still available today.
EXPLICIT FLAWLESS EROTIC BEAUTY
Who needs hardcore porn when you can enjoy glamour and erotic solo action? MetArtX offers a unique opportunity to explore the sensuous side of masturbation content, featuring some of the prettiest models you have ever seen in your life. The cinematography is really breathtaking, and there's just no way you wouldn't enjoy seeing some of the things that they want you to see. Again, let's not get ahead of ourselves. Let's discuss all the pros and cons of the experience offered by this very website.
Things We Liked
1.   Slim and seductive women who are objectively amazing to look at. If you seek real-deal eye candy, then you won't be disappointed by this website's roster. All the women are extremely appealing. What's also worth noting is that it's a TEEN site, so the women are in their late teens and early twenties (18–22). All of them are centerfold-worthy.
2.       Updates are daily. Each and every single day, you get something new to enjoy, be it a photo set or a breathtaking video that does a great job of capturing some hottie's zealous solo session. The sad thing is that we have to reiterate that the updates do actually occur every single day. Blame blatant false advertising from other websites for the need for repetition.
3. The library is already large. Daily updates are neat, and the fact that this XXX database is already colossal is also pretty neat. We are genuinely happy for those who are going to discover this fascinating XXX library for the first time. It might be overwhelming, sure, but it's a great thing nonetheless.
4. Breathtaking camerawork. Close-ups, full-body shots, sweeping and/or lingering shots… This one has it all. Even if you're not consciously aware of all the amazing visual storytelling techniques implemented in these scenes, your penis will still grow extra stiff. Your brain will thank you as well!
5. Unlimited downloads. 'Nuff said!
6. Every scene has a preview. That way, it's easier to figure out which releases are must-see and which can wait for at least a while, you know?
7.  Great quality of the content. You get exciting images up to 4k. The pictures really do look amazing in 3840×5760, and the same can be said about the videos. The solo scenes look positively mind-blowing in 3840×2160 with a 40000k bitrate. This quality helps provide heightened immersion.
Things We Didn't Like
1. Model pages aren't compelling because there are no bios. You can only read comments from some of the more enthusiastic members of the community. For instance, a user compares Melody Wylde to Pocahontas (because she's vaguely exotic, duh) and adds the extra-appealing "I like". We have the feeling that Melody slid into his DMs because, how could she not?
2. No bonuses. The second thing that made us go all "We no likey"! We figured that there would be more bonus options to explore on the MetArt network, but it didn't quite turn out that way. Perhaps we should wait for a future update or something. Over time, they will probably add a few bonus sites.
3.It can get pretty repetitive.
Conclusion
For what it's worth, MetArtX is one of the most reliable websites in the world. If you're interested in the content that they are offering (and you can easily figure out if you're interested or not after watching no more than one video), then you are going to love your stay on the site. The videos are all faultless, but you should be aware of the fact that this site never really steps out of its comfort zone, playing it perfectly safe every time. If reliable perfection with almost no divergence is what you seek, then we think that you are going to really dig what is being offered by this glamour erotic website.
Special Offer
Click the coupon to get an excellent MetartX.com discount today:
or choose a Special Metart Network Discount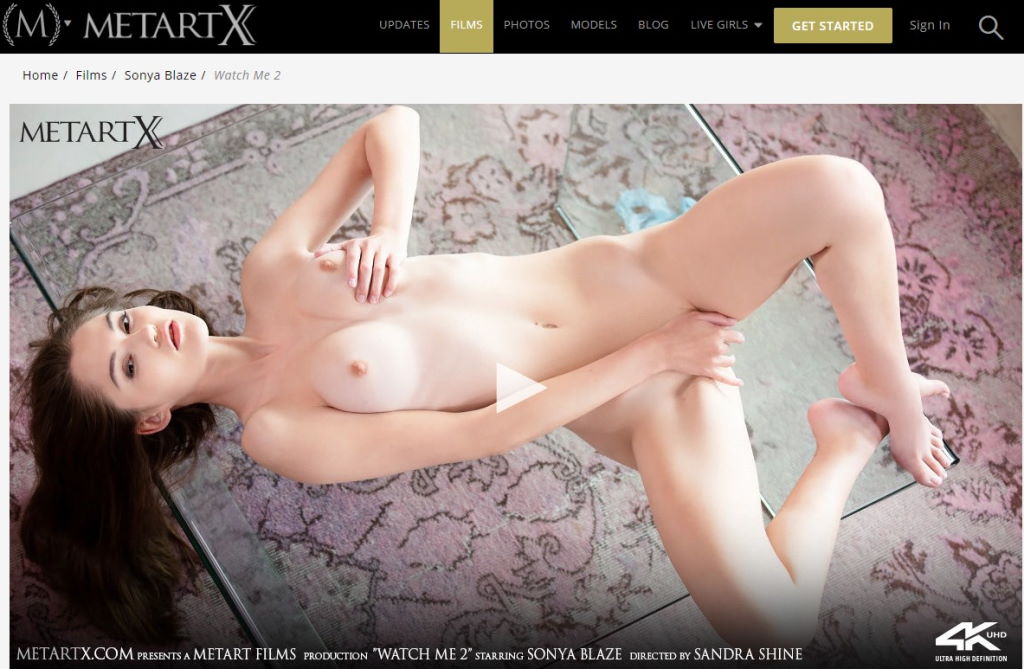 MetArtX.com review & discount