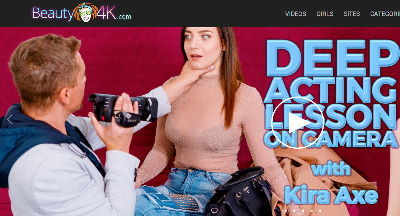 Beauty 4K review & discount start at only $9.95 per month (12 month offer)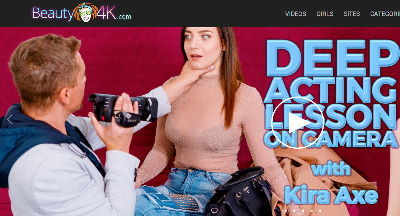 Beauty 4K review & discount start at only $9.95 per month (12 month offer)
Do you like teen porn? Who doesn't, right. Well, time has come to enjoy it at a whole new level. The site is called Beauty 4K, and it's a very nice mix of Euroteens, all kinds of hardcore action, and 4K videos. Have you heard? This is the next thing after full HD, ultra high resolution videos that require some serious bandwidth and some serious hardware. This review of Beauty 4K will tell you everything you need to know. Also, there's ad discount coupon right under, as usual!
We don't know where to begin, even. Beauty 4K is great from almost every aspect there is. First of all, a lot happens in these videos. They play for about half an hour each, and during these 30 minutes, all sorts of cute ass European teens get abused in all sorts of ways. It's usually good old hardcore action, but Beauty 4K also has girl on girl, threesome, anal, and other scenes. You know you want to see all of that. Because hell, these girls are hot!
So, now the quality. It's out of control. Best quality videos play at like 4000×2100 resolution, slightly more even. These are some damn big files, we'll tell you that. How about 5gb for a single file? The 1080p HD movies are a bit smaller in size of course, and the 720p files look small compared to these mammoth movie files. Streaming is smooth, with less quality choice though. For the photos, you get to browse through 300-400 of them. The original files are 3,500px on the larger side. This is pretty impressive as well. There are zipped photo sets available for your convenience.
When it comes to other features, Beauty 4K lets you rate the episodes and comment on them. You can build a favorite list, and even leave a private message to a model. The network includes 40+ different sites with around 4K scenes for you to have a look at. Some of these sites are real nice.
Minor Cons
The site feels as if it could be bigger, really. They also can make their update schedule more consistent. You need quite a connection for 4K videos. Not really a disadvantage of the site, but you should just know that. There are some ads and links to 'specials' in the member area.
Conclusion
If you think hot European teen girls, great, even kickass videos, and a neat-looking member area are a winning combination, you need to check out Beauty 4K right now. The girls are incredibly lovely, and when they speak English with their pretty little accents, it gets even cuter. The site and the goodies you will find in the network are definitely worth having a look at. Grab your Beauty 4K membership now with a discount. Click the coupon below to save $$$!
Click to gain special discount  – 1 Months Beauty4K membership – full access $9.95 only (12 month membership):